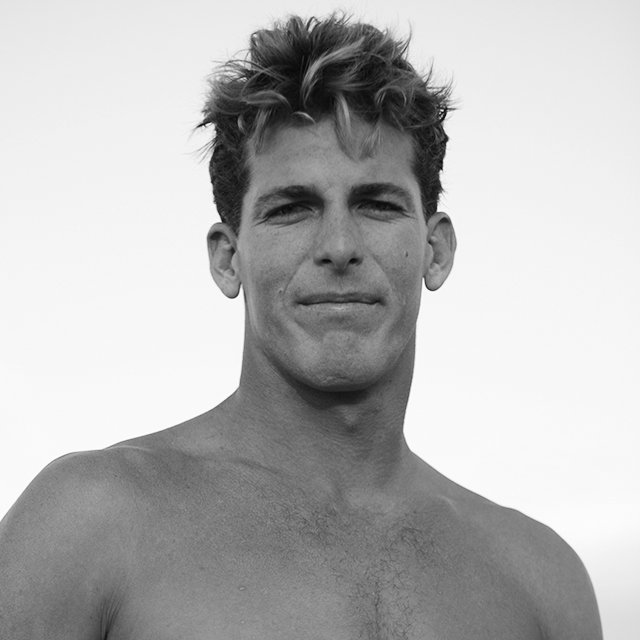 Bio
Andy Irons
(1978 - 2010)
Eulogy to a Great Waterman
He was going home. Andy Irons one of the greatest surfers of all time, passed away on November 2nd while traveling back to his beloved Ile of Kauai. Only 32 years old, he had in that short time put his mark on the world of surfing forever. When Andy Irons won his third World Professional Surfing Championship he joined a rare trio of legends whose impact has dominated competitive surfing for the last 3 decades. Only Mark Richards, Tom Curren and Kelly Slater share that achievement, and they have arguably been the most influential surfers in modern history. It is an unforgettable legacy.

Born in 1978, and raised his whole life on Kauai, he was the second generation of a proud surf family whose roots in the sport are as deep as almost any living today.

Andy and his brother Bruce quietly honed their skills in the hollow majesty of Hanalei Bay, his backyard of Pine Trees, and other power-packed reef breaks, under the radar of the surf industry star-making machinery. His talent did not register a bleep on the screen, even though in 1995 Irons (like his 3 predecessors before him) had won the National Amateur title. Despite a host of other ASP rookies being blown up into major contenders, Andy's anonymity continued. Worlds away from the limelight, with cameras unwelcomed at his breaks and line-ups heavily protected by the locals, Irons went almost entirely unnoticed.

Until the 1996 Pipeline Pro: Just 17, Andy charged macking 12' Pipeline and when the foam had settled, he had taken out both reigning Pipe Master Derek Ho and a host of touted New Schoolers who were gunning for the crown. Six years later Irons would claim his first World Championship.

The road leading to that result however was no smooth, glassy ride. For a couple of very precarious years Irons professional career was as rocky as the bottom of Teahupoo.

Irons had grown up in a low-key environment and, by his own account, had been pretty much a homebody. But after winning the Pipe, he suddenly found himself in the glare of the media spotlight and the pressure of the pro competition. He was young and inexperienced, a country boy from the outer islands, out of his element.

By the end of his rookie year the dizzying blitz of the world contest circuit, the late nights and relentless travel schedule began to take its toll.

But Irons went back to his roots steadied by an environment much deeper than the whirlwind of stardom. Friends gave him the support to take a positive perspective, advising him and building the confidence he needed. His parents, always big supporters of his surfing passion, helped remind him of his foundation, laid in the powerful tubes of Kauai. Iron's refocused, re-engaged and refined his game to include 2 major ingredients that had been absent: competitive consistency and personal accountability. Together they connected the missing link.

Battling his way back into the Championship Tour, Andy started winning events in every type of conditions and turned his instinctual approach into a snowball of contest victories, culminating in 3 World Titles in a row. Along the way he gained a wife, a career and a million admirers of his talent.

In 2009, Andy took a year off the tour to regain perspective and focus in the competition circuit. Yet during his year off; interest in his career actually increased. Four magazine covers and a full length award winning film about his rivalry with Slater, kept him more in the limelight than almost any surfer anywhere.

And as he refocused his energy after rejoining the ASP circuit in 2010, he once again proved his mettle, winning the Teahupoo event. It clearly seemed that this young man possessed the wisdom, determination and influence that make a lasting legacy outside the achievements of waveriding.

Andy never forgot the home-town boys or his native State; never failed to thank his family and friends. Most importantly he rarely ever gave a public pronouncement without mentioning his loyal, lovely wife Lyndie, almost always ending his words with "Lyndie, I love you so much."

The Pines Trees contest put on by Andy and his brother Bruce for all the kids on Kauai has turned into one of the most popular and well-respected non-profit events in the surf industry " free of brand-building and addicting in its purity and joyous sense of fun.

Andy's three titles have another aspect to them, one that adds sheen to the accomplishment: they were won against the former nine-time champ at the top of his game. The classic rivalries of the previous champions " Cheyne Horan's 3 second-place showing's behind MR, Occy's epic challenges to Curren " pale behind the intensity of Irons' and Slater's monumental battle of wills. That rivalry was the greatest in surfing history and only Andy was able to manage the feat.

Perhaps the best mark of future legacy is his respect for those that have come before him. In every category from heroes (Sunny Garcia and Shane Dorian in Hawaii, Occy on the tour, Potts as mentor) shapers (Jason Stevens, Chilis, Merrick, Arakawa for guns) Andy has kept his long-standing relationships and continued to make new ones. From competitors to friends and family (everyone in the hood still knows and likes Andy) he managed to keep the common touch as he walks with the kings.

Andy Irons, in his first quarter-century, won three World Titles. In the history of the sport only three others have achieved similar records.
Add a #1 Surfer Poll Award, SIMA's Waterman of the Year, and 20 WCT victories.

Perhaps just as importantly, in the great shift of acceleration into the 21st Century, Andy Irons has been able to hang onto his individual compass, keeping his internal indicator pointed true north to his Hawaiian home and the birthplace of our sport.

As the news of his passing spread, hundreds and hundreds of e-mails came pouring in, from every corner of the globe, they all seemed to say the same thing. We grieve with Andy's family, with his friends " and with Billabong. At first I was perplexed at the mention of the company's name in so many of these condolences, along with the family. It didn't take long to understand though " as every wet-eyed staff member knew, our life and legacy was caught up in his. He was our son too.

Aloha, Andy Irons
To the peace that passeth all understanding…..

Graham Stapelberg


STEPPING STONES TO SUCCESS : Grommet

Andy began his days surfing the breaks around his island home of Kauai. He was lucky enough to have the beach that close to his house it was basically an extended backyard. If those things weren't enough to inspire his surfing, than a younger brother of sixteen months by the name of Bruce certainly pushed his competitive spirit into overdrive.

ATTITUDE TO ALTITUDE : Climbing the ladder.

While competing the WQS and during his early days on the WCT, Andy created quite a stir due to his confident, in your face and often reckless attitude. He was labeled "too cool" and "arrogant" and quickly had the reputation as the WCT rebel. Not many people thought he would be surfing's next big thing.These days it is that same underlying aggression which he has learnt to control and use to his advantage that simply makes him so hard to beat.

From 1998 to 2000 Andy struggled to maintain his WCT position, but in hindsight he was learning valuable lessons and plotting his moves for future years to come.

THE GOLDEN YEARS - 2002, 2003, 2004

2002

It's quite obvious Andy dominated 2002, 2003 and 2004. With his winning streak that started at the Rip Curl Pro at Bells Beach, Australia in 2002 where he defeated 2000 World Champion Sunny Garcia, and continued onto his favorite Tahitian venue, Teahupo'o for a superior ratings lead, Andy was looking good and fast becoming hard to stop. His run continued by locking in a runner-up finish in France, before claiming another victory at the following Billabong Pro competition in Spain. He only entered one WQS event, but reached the final of the Vans Hawaiian Pro at Haleiwa. His consistency and talent prevailed and the Hawaiian secured his world title at the second to last WCT at Sunset Beach. Still not content, Andy pushed on and won the year ending Xbox Pipeline Masters, and with it clinched the prestigious Vans Triple Crown of Surfing title. While his obvious focus, dedication and string of impressive results say that he could of done it with his eyes closed, Andy admits that he definitely felt pressure from the stream of talented young blood like Joel Parkinson and the rest of the Aussie posse. Ironically, these feelings of uncertainty worked in Andy's favor because no matter how well everyone else was surfing, there's no way he was settling for second best.

2003

'03 proved to be another golden year for Irons. He duplicated his clean sweep for the second consecutive year by claiming the Xbox Gerry Lopez Pipeline Masters, the Vans Triple Crown of Surfing title and the Association of Surfing Professionals (ASP) world title making him the 2003 World Champion. Irons, pushed six-time world champion Kelly Slater to the very last heat of the year in a grueling nail-biter and sealed his victory in the final seconds when he took first and Slater took fourth. He is the only surfer to ever win all three titles two years in a row. He also won five of 12 2003 WCT events, managed to get inducted into the Surfers Hall of Fame in Huntington Beach in August 2003, captured the Surfer Poll award for the second year and continues his legacy with his second consecutive world title.

2004

Andy was Mr Consistency in '04 with results reading 2, 3, 3, 2, 1, 5, 33, 1, 3, 9,17. His continuous motivation and performances sending shudders down fellow competitors' spines, who often noted that even when Andy needed an 8 or 9 to win with only minutes to spare, he can often jag that set wave or more frighteningly turn an ordinary wave into a winner. Quite simply Andy has dominated world surfing for the past three years. He has pulled away from the pack and with 2 strong placings for the opening Australian leg of 2005, he doesn't look like slowing down.

SECRETS FOR SUCCESS: Andy's Attitude

Andy epitomizes the all or nothing attitude. He also takes it wave-by-wave and heat-by-heat, instead of panicking about the bigger picture. Underneath is also a competitive aggression that still sometimes bubbles over but constantly makes him so dominant in the water. This attitude and strength of mind throughout his career has propelled him to earn his three coveted ASP World Champion titles. Along with these Irons was named Surfer Magazine's, 2002 Surfer of the Year at the Surfer Poll Awards, breaking Kelly Slater's nine-year hold on the honor. He managed to uphold the title in 2003 for the second year in a row. Amongst the awards, trophies, titles and reputation is a man who holds the key to competitive surfing in the palm of his hand, where will he take everyone else?



1998
1st OP Pro " Huntington Beach, USA

2000
1st Billabong Pro " Trestles, USA

2002
1st Ripcurl Pro " Bells Beach, Australia
1st Billabong Pro " Teahupoo, Tahiti
1st Billabong Pro " Mundaka, Spain
1st X-BOX Pipeline Masters " Pipeline, Hawaii
ASP WORLD CHAMPION

2003
1st Ripcurl Pro " Bells Beach, Australia
1st Quiksilver Pro " Tavarua, FIJI
1st Quiksilver Pro " Niijima Isalnd, Japan
1st Quiksilver Pro " Hossegor France
1st X-BOX Pipeline Masters " Pipeline, Hawaii
ASP WORLD CHAMPION

2004
1st Billabong Pro " Jeffreys Bay, South Africa
1st Quiksilver Pro " Hossegor France
ASP WORLD CHAMPION

2005:
1st Quiksilver Pro - Chiba Japan
1st Quiksilver Pro " Hossegor France

2006
1st Ripcurl Pro Search - Huatulco, Mexico
1st Ripcurl Pipeline masters " Pipeline, Hawaii

2007
1st Ripcurl Pro Search " Arica, Chile

2010
1st Billabong Pro Teahupoo, Tahiti